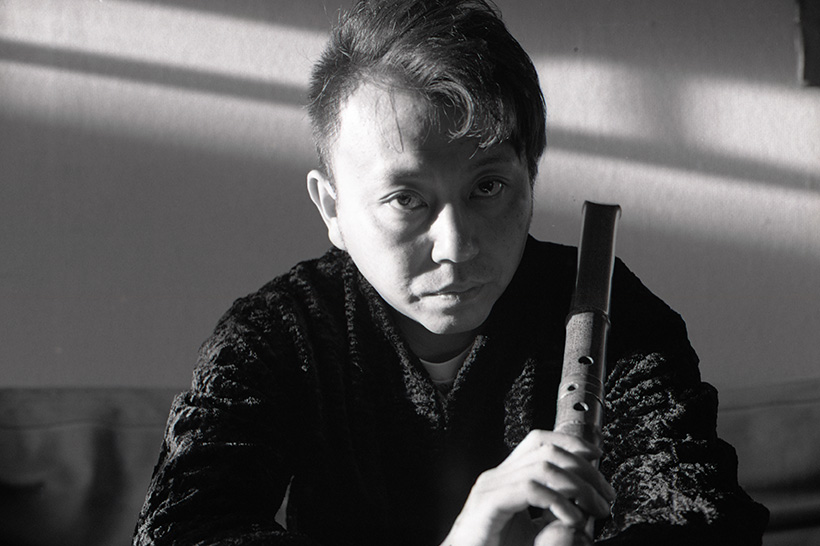 Kinohachi
Shakuhachi player & composer
Born in 1971 in Negishi, Tokyo.
He was raised in a family of traditional performers, and his grandfather started the line of 'Sato Kinsui' and his legacy continues on through a school of Japanese traditional bamboo flute called 'Kinko-ryu Shakuhachi'. Kinohachi began playing with the shakuhachi as a toy at 4. In his twenties he studied under Kifuu Mitsuhashi (a Shakuhachi master player who was awarded the Medal of Honor with the Purple Ribbon in 2011). He has performed on many stages both in Japan and abroad with his master. He is also a member of the rock band 'Musashi' which is a fusion of traditional Japanese and Western instruments. He made his solo debut in 2003 and his music has appeared in anime, plays and on television networks such as NHK (Japan Broadcasting Corporation). In addition to his regular domestic and international appearances, he does memorial performances in places such as Chernobyl and Chiran.
He has also committed himself to the campaign of 'Mirai Minyo Project' passing down 'Minyo' to the future generation 100 years from now. 'Minyo' is a traditional type of spoken Japanese folk song and dance that varies from region to region. Kinohachi continues to learn about Japanese tradition in order to preserve the soul of Japanese culture and pass it down to future generations and people the whole world over.
Performances and Lives in Japan and abroad
2004
Performance in London
2006
Performance in Moscow
2007
Performed at the Ukraine Arts and Culture Festival in Slavutych
Performed at the Shimane play-off match for the Emperor's Cup All Japan Soccer Tournament
2008
Russian Tour (Moscow, Saint Petersburg, Novgorod and Medved)
2009
Live stage Performance: Shuzan-sai September Ookabuki (traditional drama performed by male actors) "Ryoma ga iku (Ryoma goes)" at Kabukiza Theater
Performed the national anthem at the All Japan Rugby (vs Canada) scrimmage
2010
Live stage Performance: "Nemurikyoshiro" starring GACKT
2012
Live stage Performance: "Saotome Taichi Spring Exhibition"
2012
Performance in Russia (Saint Petersburg)
Performance in Kazakhstan (Astana and Almaty)
2014
Performed as the Japanese representative at International Music Festival in Turkmenistan
2015
Performed at the opening ceremony of international rugby games "Tokyo Sevens 2015"
2016
Live stage Performance: the new Kabuki "Genso Seishin Kukai"
2017
Performance in New Zealand (Auckland, Christchurch)
Performance in China (Beijing)
Performance in Russia (Vladivostok)
2018
Performed at the opening ceremony of super rugby games "Crusaders vs Sunwolves" at AMI Stadium
Performance in China (Beijing, Xi'an)
Performance in Russia (Saint Petersburg)
2019
Performance in New Zealand (Christchurch)
China Tour (Shanghai, Guangzhou, Shenzhen, Chongqing, Wuhan)
Discography
| | |
| --- | --- |
| 2003 | Released the first solo album "Sora" |
| 2004 | Released the second solo album "Iki" |
| 2008 | Released the album "Tami no Uta" produced by Kinohachi |
| 2009 | Re-released the albums "Uchu" and "Iki" at a time (from Sony group village music) |
| 2013 | Released the single "Onmyoji", the theme music for the new Kabuki "Onmyoji -Takiyasya hime-" |
| 2015 | Released the single "Making History JAPAN", the theme music for Japanese National Rugby Team |
| 2016 | Released the single "Ten ni Mukatte", the theme music for the new Kabuki "Gensoushin Kukai" |
| 2018 | Released the Third solo album "Enishi" |
Producing and Composing
2005
Collaboration with painter and poet, Kotaro Nakamura
2008
Music composer of Shuzan-sai September Ookabuki "Ryoma ga iku / Fuun-hen (Ryoma goes / winds and clouds ver.)" at Kabukiza Theater
2009
Music composer of Shuzan-sai September Ookabuki "Ryoma ga iku (Ryoma goes)" at Kabukiza Theater
Produced the theme music for All Japan Rugby Test Match (vs Canada)
2013
Produced the theme music for the new Kabuki "Onmyoji -Takiyasya hime-" at Kabukiza Theater
Produced Tokyo Arts Council Partnership program "The World of Hidden Komuso Shakuhachi" at Edo-Tokyo Museum
2015
Produced theme music for 2015 Rugby Top League, All Japan Rugby Team
2016
Produced and composed music for the new Kabuki "Gensoshin Kukai"
2018
Produced the theme music for the Chinese movie "Red hairpin"
2018
Produced the theme music for the Chinese documentary film "One Sound One Life"
2018
Produced the theme music for 80th anniversary of Kibun Group "Yui"
2018
Produced the music for the Chinese Game "SAMURAI SPIRITS"
Community activities
2006
"Komuso Shakuhachi" lecture at Moscow Tchaikovsky Conservatory
2007
Memorial Live at Chernobyl and Iwami Ginzan Silver Mine, Gohyaku Rakan
2009
Live at Chuson-ji Temple (Iwate Prefecture) and Goju-no-to (5-Story Pagoda) in Mt. Haguro (Yamagata Prefecture)
2010
Founded "Mirai Minyo Project" and became a representative of performers
2011
Since March, has performed at over 20 shelters and temporary houses for evacuees of the Great East Japan Earthquake
(Miyako-city Iwate Prefecture, Oohunewatari-city and Kesennuma-city Miyagi Prefecture, Soma-city and Iwaki-city Fukushima Prefecture)
2013
Performed at the 5th anniversary for a monument in Medved village, Russia
2014
Performed at the 60th Memorial Live for Kamikaze suicide attacks in Chiran base camp (Kagoshima Prefecture) and at Goju-no-to (5-Story Pagoda) in Mt. Haguro (Yamagata Prefecture)
Educational performances to children to introduce traditional Shakuhachi culture
2018
Performed at the 10th anniversary for a monument in Medved village, Russia